A photo essay on my exploration with Canon's FD 50mm F1.8 in New York City.
---
Throw Back to the Past
I bought my first camera during the end of second year of college, comparing to my colleagues who major in photography, I was quite late for the party. It was a Canon EOS M6, the first camera I ever owned. I was on a research trip to Greece and I thought my iPhone 6S wasn't going to cut it, so I bought an used camera off eBay. Turned out I was right! I visited some of the most beautiful places on earth, and it sparked the fun of photography into my life.
Born in the digital age, taking photographs is as natural to me as pulling out a phone, open camera app, and hit the shutter. The camera does everything for me automatically, and it was effortless. It was so natural such that I brought this way of taking photographs to using my camera, and I just keep my camera on AUTO all the time. Point and shoot, quite literally.
Spetses, Greece. Aug 2019. (Canon EOS M6 & EF-M 15-45mm)
Film photography to me is like an ancient myth. My parents kept loads of albums and negative films at home containing photos of their youth as well as early years of mine. "It's an out of dated process." people say, as the world transition into digital photography. My parents bought a digital camera right when they became main-stream when I was four years old in 2002, because they didn't like the laborious work of using film cameras. Naturally, most of the photographs about me are also digital. Of course, they now enjoyed the convince of taking photo with an iPhone.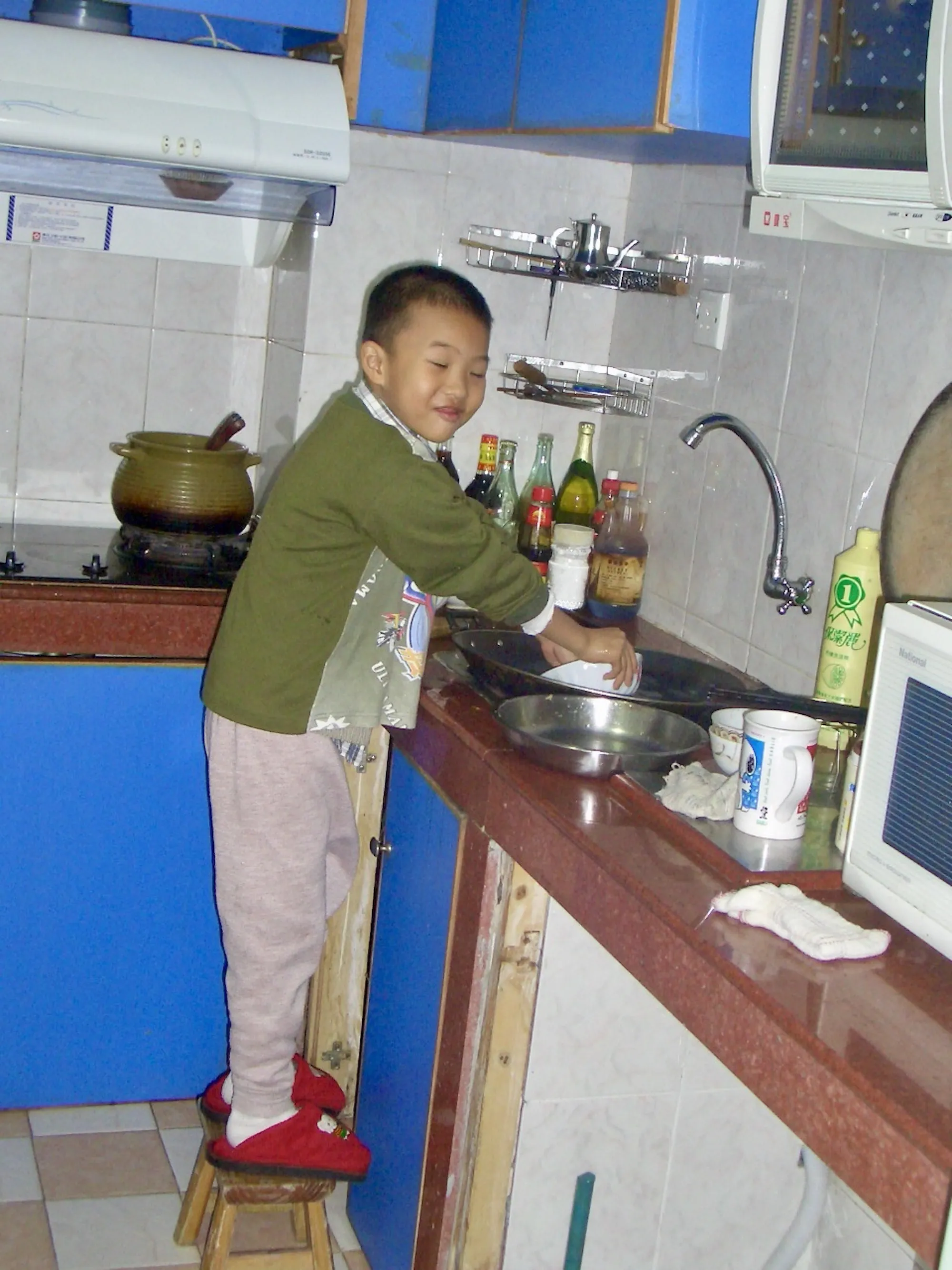 The author doing child labor at home. Jan 2003. (Casio EX-Z3 8mm F2.8)
But deep in my heart I liked film cameras. I never owned one, never used one (except the single-time-use ones people buy at touristy places), but the looks of film photography is amazing on its own. There were early young photos of my grandpa and my father as a child locked in one of the drawers in my house. I remember when I came across them when I was five or six and said to myself: "whoa, that actually happened sometime ago on this planet".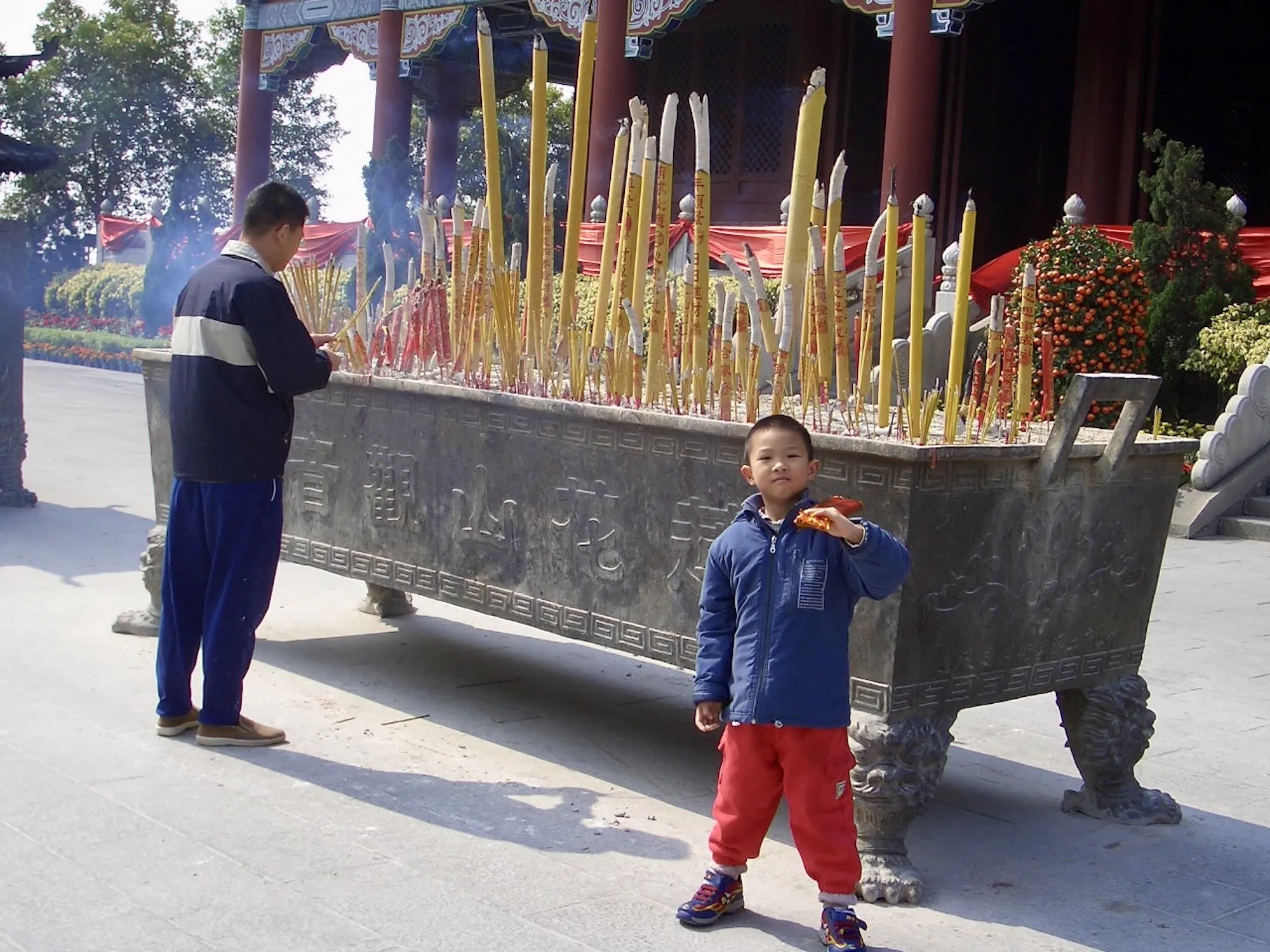 The author with his father praying to Buddha in the background. Jan 2003. (Casio EX-Z3 8mm F2.8)
I sold my M6 after the pandemic hit the world and there was no more opportunity for travel, but then a friend of mine lured me into the magic of FujiFilm. I got a X-T30 off eBay and I loved it, used it for a year before replacing it with a X-S10 body, thanks to eBay, I actually made a couple bucks while upgrading my rig. But the procedure hadn't change, I still keep the camera on AUTO, set film simulation to Velvia or Classic Neg, and hit that button.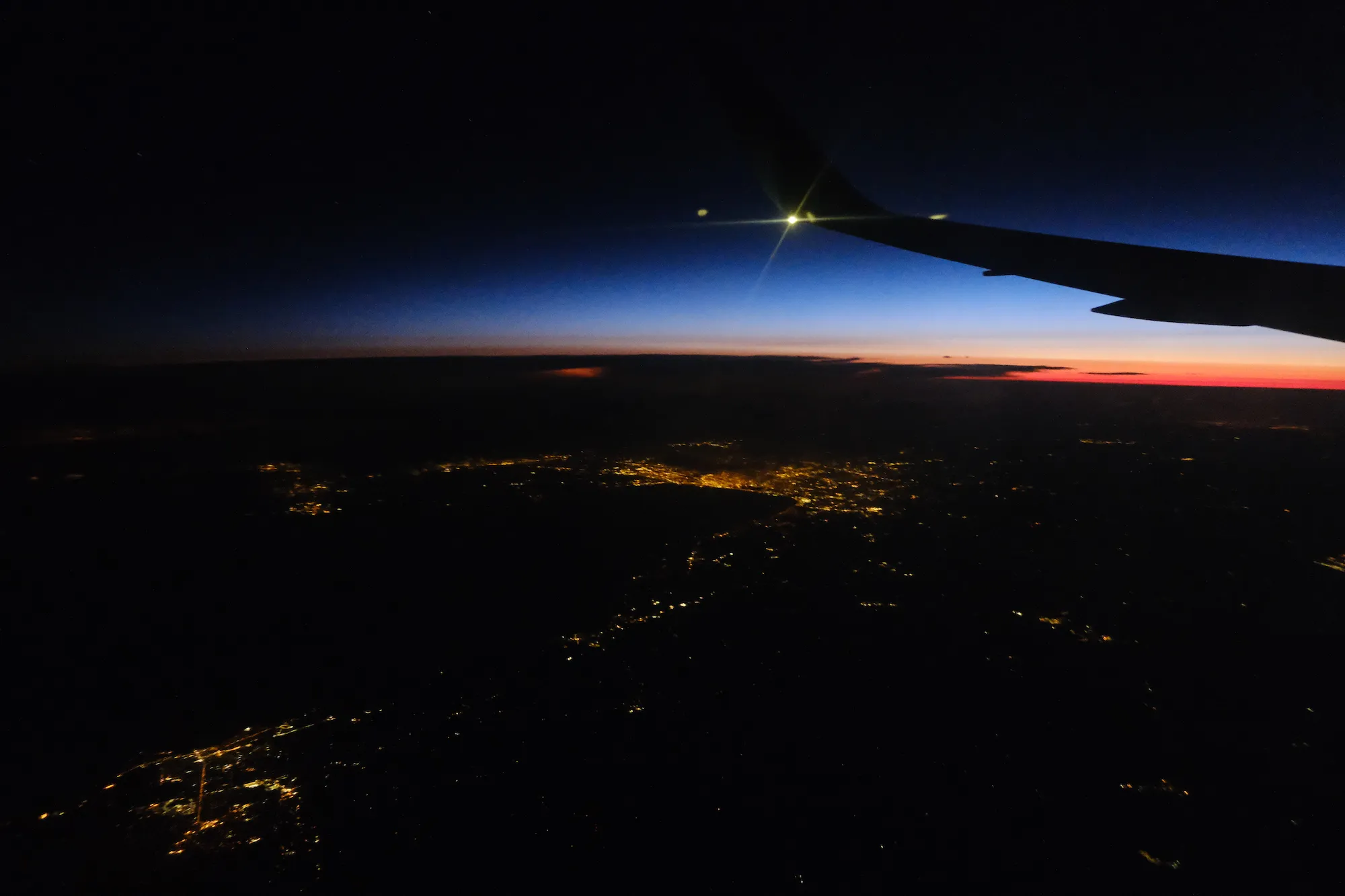 Horizon on my flight to New York. Aug 2021. (FujiFilm X-S10 & XF 18-55mm)
---
The Surprise Gift
I used my XF 18-55mm lens for quite a long time, but I wanted something smaller and shorter to take my camera with me everywhere after I moved to NYC for my graduate studies at Cornell Tech. After doing some homework, I decided to get a Fuji XF 27mm pancake lens which is insanely small and can be bought pretty inexpensively from eBay. I wrote a polite message (as I always do) to ask a guy named Kyle if he can lower his price for a poor art student, he was surprised because few people take time writing polite messages on eBay, and he said yes.
A couple days later I got not one, but two lens from mail. Kyle was kind enough to gift me a Canon lens used in the age of film, and an adaptor ring for my Fuji body. It is completely mechanical, the aperture ring, the focus ring, everything. It doesn't belong to the digital world.
Kyle's Gift (FujiFilm X-S10 & XF 18-55mm)
I thought if you haven't tried shooting old adapted glass, you'd be in for a treat. You can get some beautiful shots with this old FD glass. You have to work harder for them without autofocus. But they can produce great results.
I was more than grateful, but using such a lens kicked me completely out of my comfort zone.
But it would be a total waste of good will for Kyle if I never use it. So I took on the challenge and decided to shoot only using this lens today when I wondered around on the streets of New York City, before walking to the Met to see some of the world's finest artworks.
---
A Film-age Subway
New York City has a pretty out-of-dated subway. Let's face it - it is hot, humid, smelly, and filthy. I had good hopes when I was watching Pixar's animated film, Soul. I fell in love with the film, part of it because I also study computer animation, but also because Pixar's NYC subway has such a great vibe. I can guarantee the viewing experience would not be as pleasant if the audience can feel and smell the environment where the story of Mr. Joe Gardner and 22 takes place.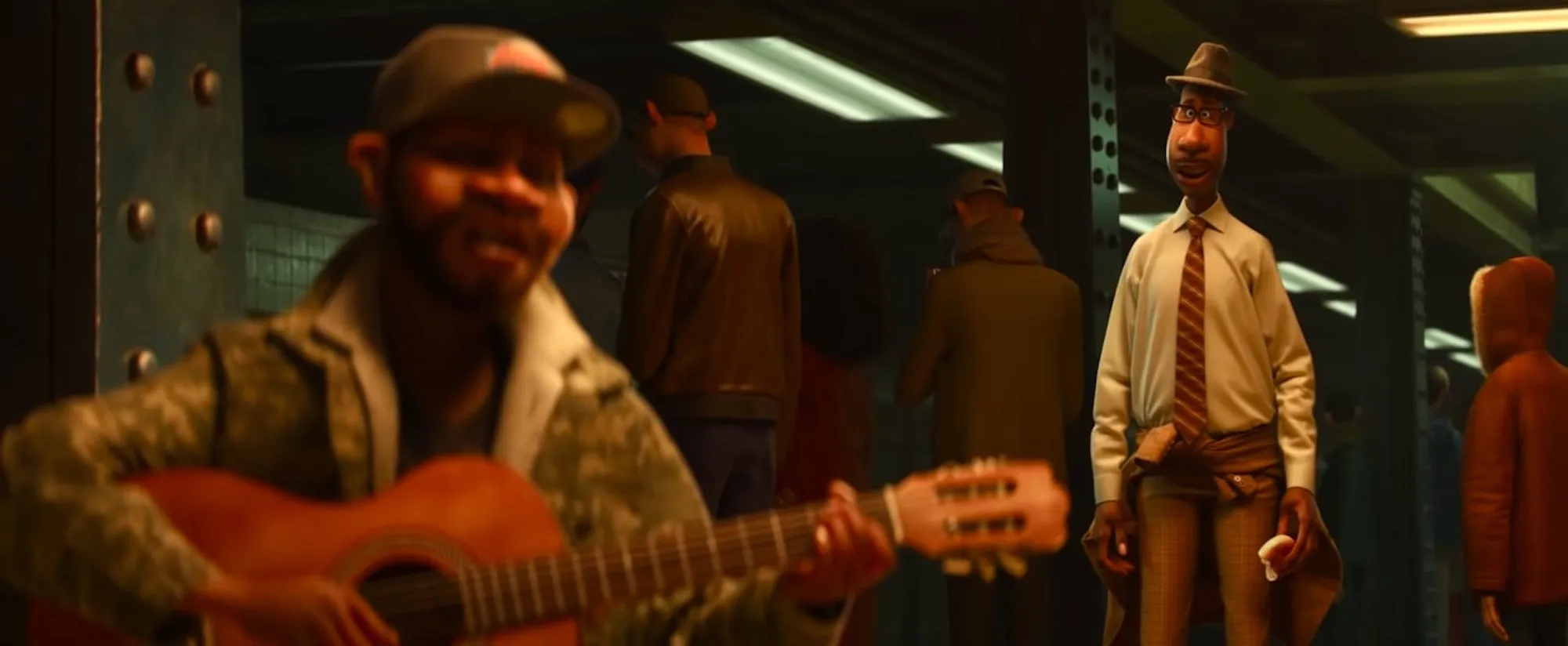 Depiction of NYC subway in Soul by Pixar Animation Studios.
It was built long before the digital age (1904), and I can say with confident, that nothing has changed for at least the recent twenty years. On the other hand, it presents a unique opportunity for me to attempt to take pictures using my vintage hardware to mimic the old photos.
Without the help of auto focus and auto exposure, I had to focus manually. Looking through the view finder and try to focus by turning the ring was difficult, and it is simply impossible to focus perfectly. There were too many lights in the station and they all shine from weird angles, and for a moment I was frustrated because I just could not get everything the way I wanted.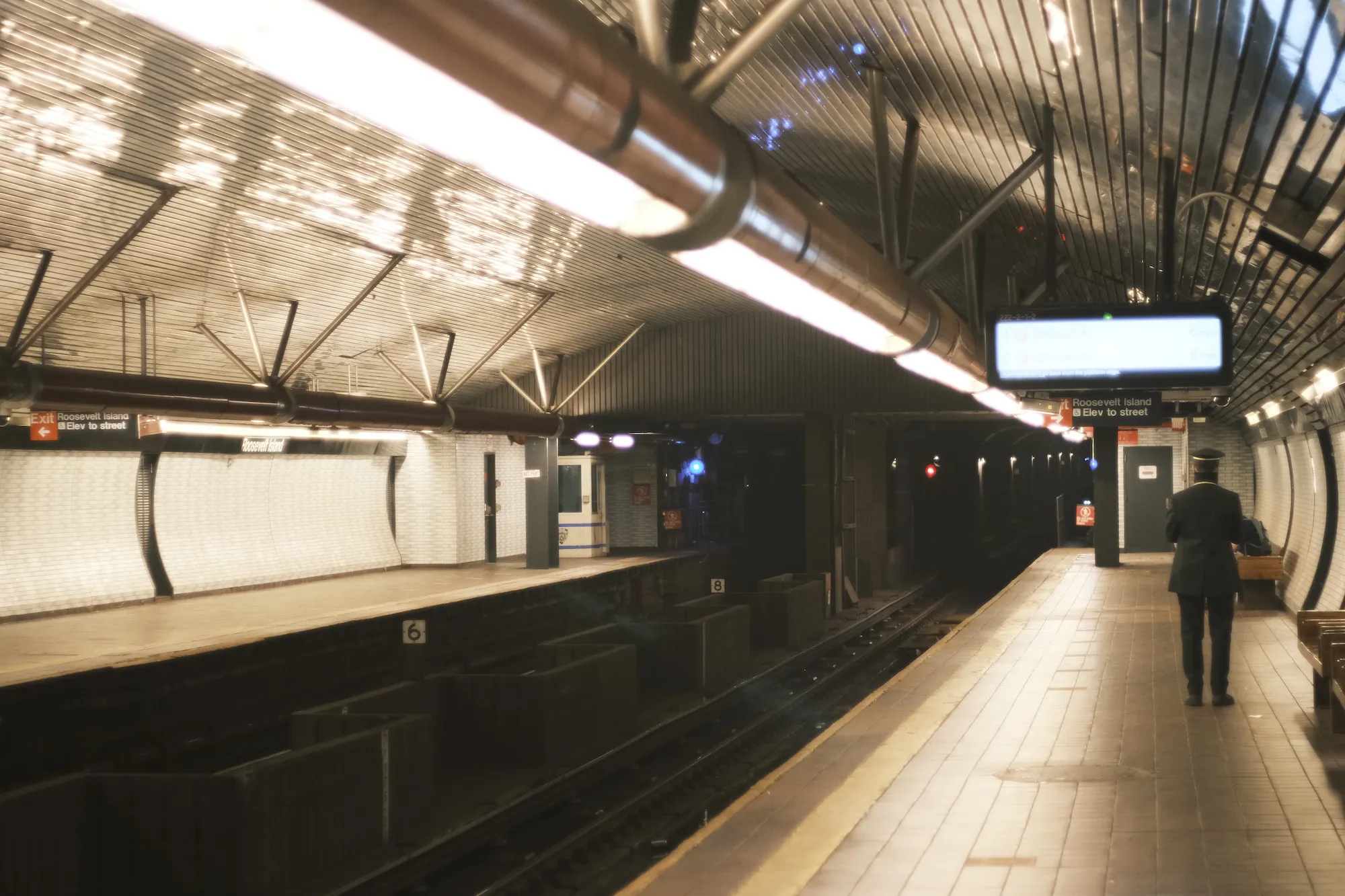 Roosevelt Island Station. Aug 2021. (FujiFilm X-S10 & Canon FD 50mm)
But I pressed the shutter anyway, and the outcome wasn't that bad. Clearly, all the light sources over-exposed, creating a soft ring of light around them. The picture isn't out of focus, but it is not sharp either. Suddenly, this feels like an old photo taken with a film camera.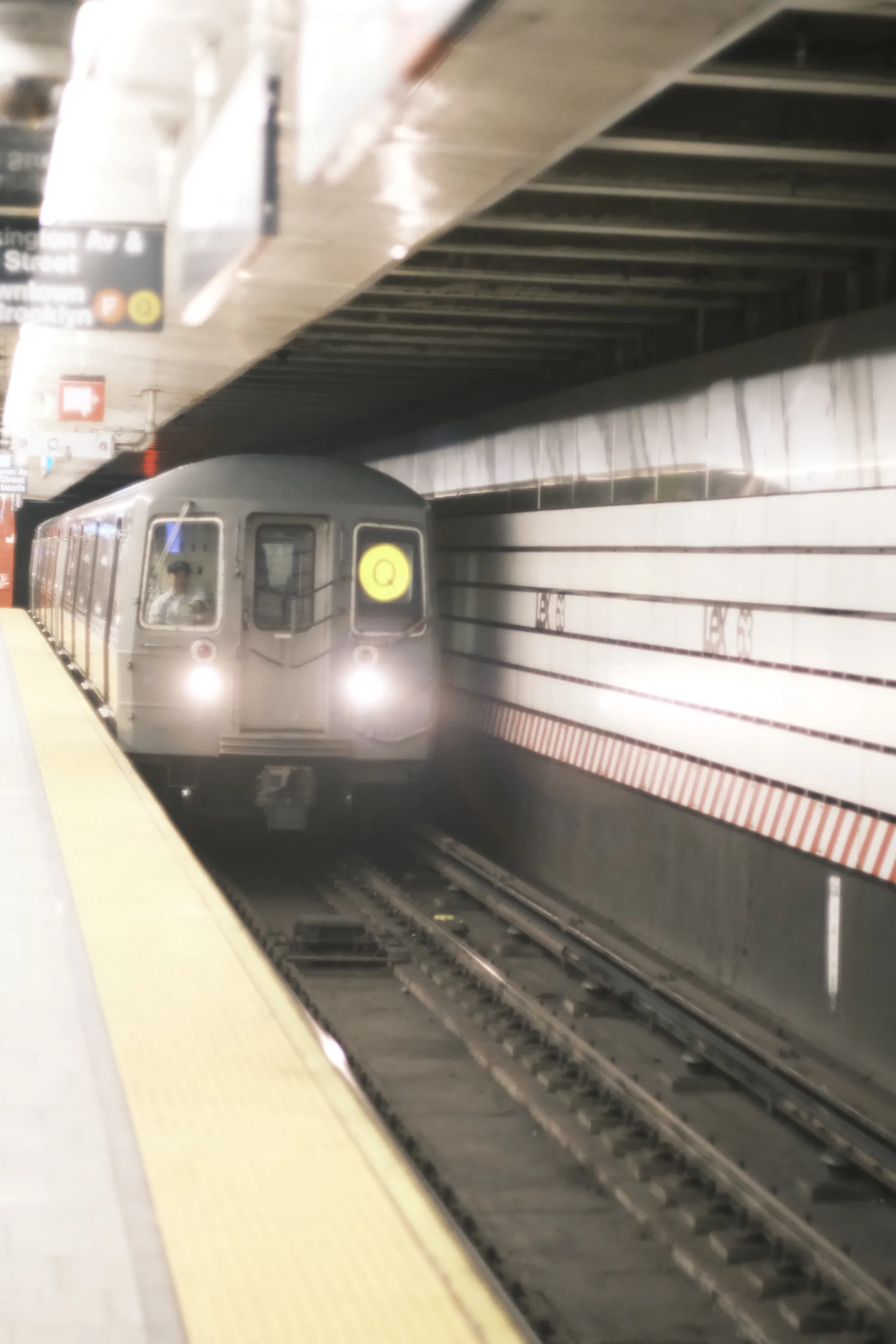 The Q Train at Lexington Av/63 St Station. Aug 2021. (FujiFilm X-S10 & Canon FD 50mm)
With a phone, the auto-focus and computational photography makes the image razor sharp. No matter how good a filter is applied to a photo, it still looks like a picture taken with a phone with a filter slapped onto it.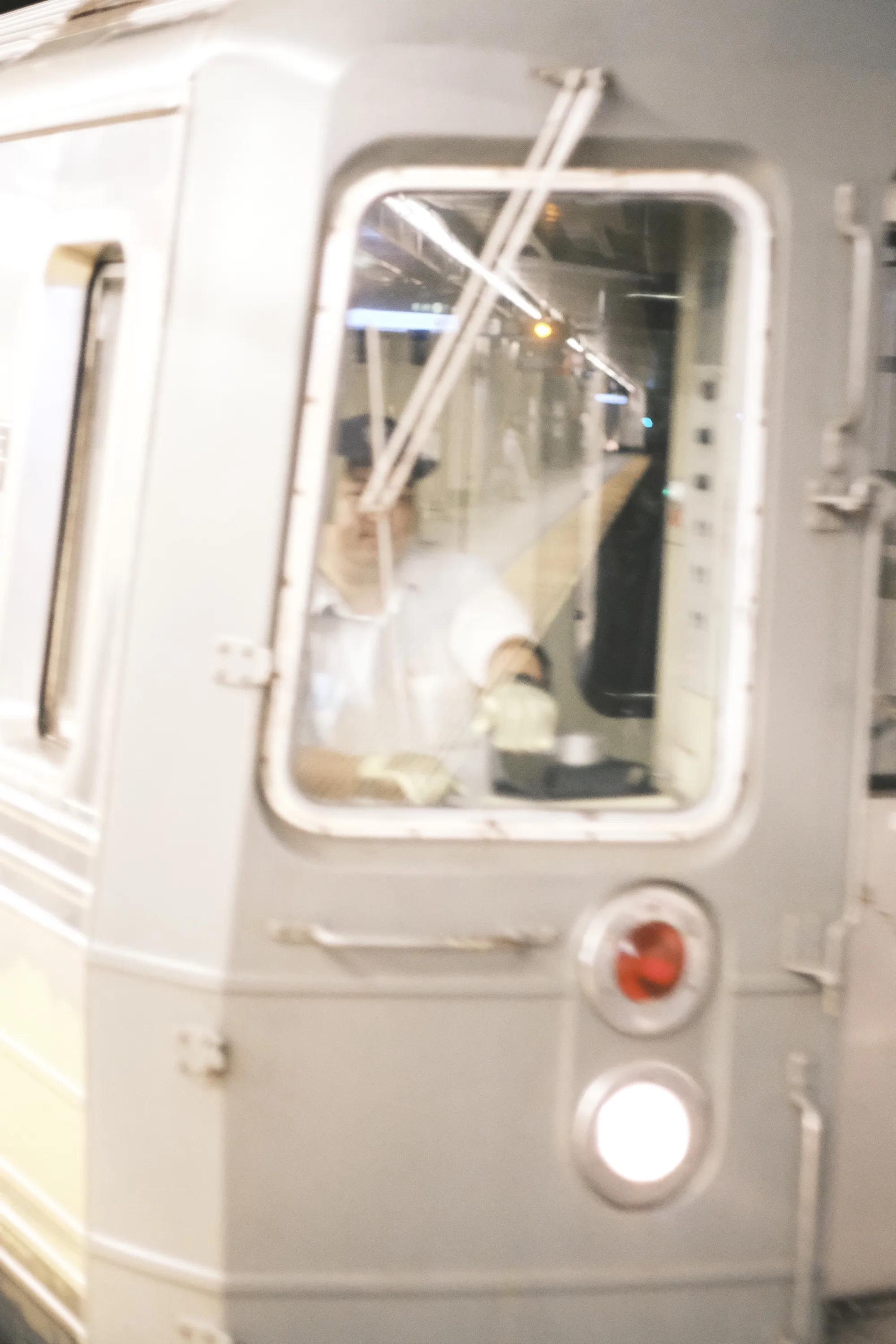 A man driving the Q train with the platform in the reflection. Aug 2021. (FujiFilm X-S10 & Canon FD 50mm)
Perhaps the imperfectness of film photography is what makes this century old camera technology still attractive to many people in 2021.
Street of New York City
On the streets of NYC, there are people who walk slow, like me, with a camera, and people who walk fast. I was chatting with one of my friends the other day, and heard a very interesting argument.
"Well, if I ever go insane and homeless in NYC, I will go and buy a pair of airpods."
"Why?" I asked, "airpods seems to me the least important thing for an un-housed individual."
"When you look at someone who talks to the air, the only difference between a businessman and a lunatic is whether they have a pair of airpods sticking out from their ears."
Looks like everyone is minding their own multi-billion business.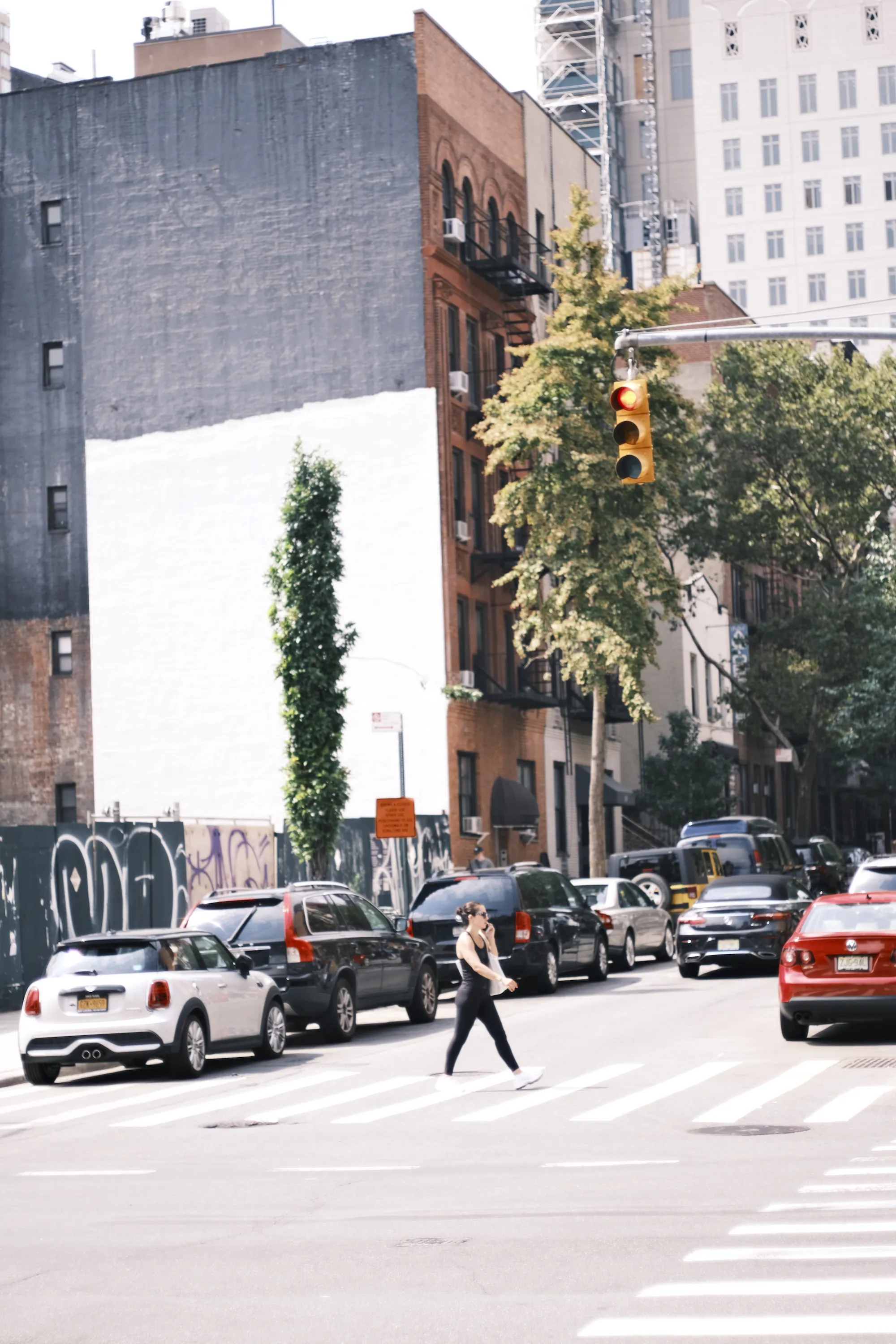 A woman crossing the road. Aug 2021. (FujiFilm X-S10 & Canon FD 50mm)
There are a lot of vintage cars on the streets of America. Many with vintage steering wheels, dating before the invention of airbags. While I might refuse driving or riding such a vehicle on the streets, they are a timeless piece of art on their own.
This car, although vintage, does seem to have a very early generation of airbag. Bravo for safety. Always the number one priority.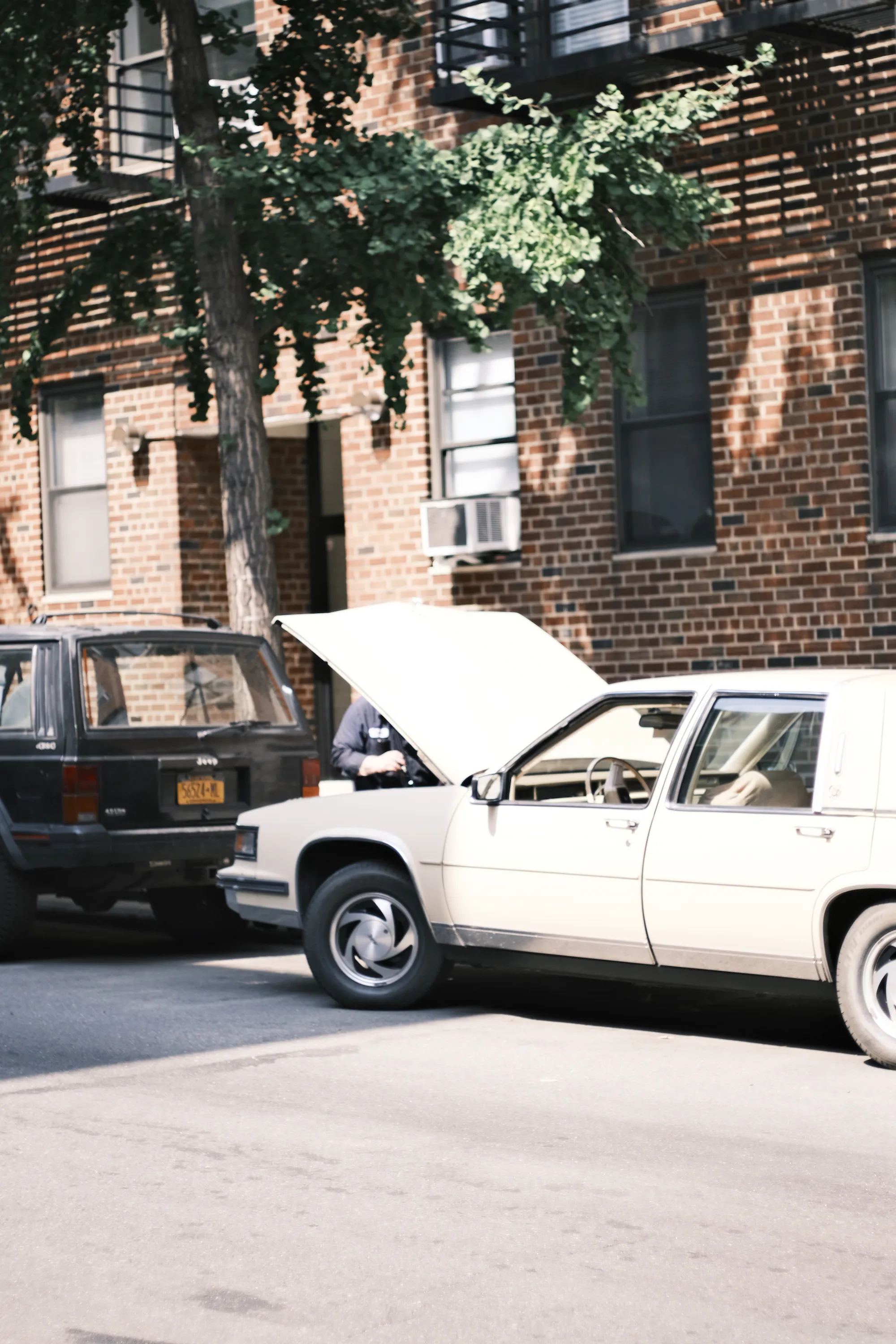 A man fixing the engine of a vintage car. Aug 2021. (FujiFilm X-S10 & Canon FD 50mm)
I love old architectures. As an art student, willingly or not, I had to study a lot of architecture and Christian art. While personally not a believer, I do enjoy going to churches and go see the old buildings and art.
Here, the spire of St. Elizabeth of Hungary shines a beautiful green under sunlight. It probably seen generations of all different kinds of people passing by its spire and in awe for its beauty.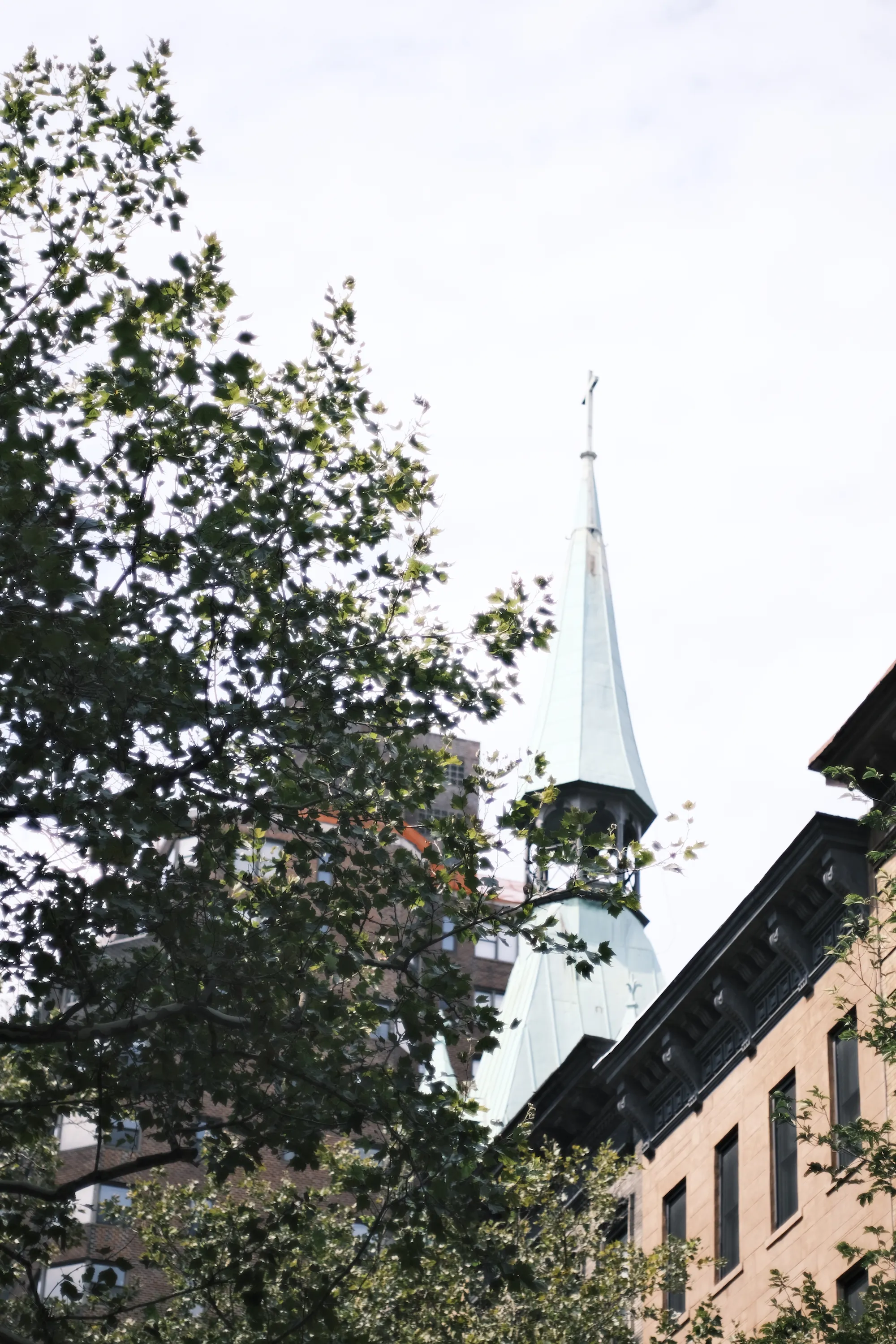 The spire of the Church of St. Elizabeth of Hungary. Aug 2021. (FujiFilm X-S10 & Canon FD 50mm)
One of the astonishing (not in a good way) fact about NYC is people casually dump bags and bags of garbage onto sidewalks. While not the most significant pile of trash I've seen in NYC (That title belongs to an apartment close to St. Catherine's park), it is "trash" enough for a photography, but not so much that it looks disgusting.
A man in the back walked out to get a package from Amazon, smelled the garbage, was clearly disgusted and quickly went inside. I just feel bad for the men and women who work hard to keep the city clean. Maybe one day we will have a modern garbage collection system in NYC.
Bags of trash in front of an apartment. Aug 2021. (FujiFilm X-S10 & Canon FD 50mm)
While I was out there in the wild, a sudden shower of rain poured down from the sky. On one hand, I got myself completely wet. But on the other hand, I had a rare opportunity to shoot photos in the rain, because I would normally just stay at home if it rains. And mother nature never disappoints me.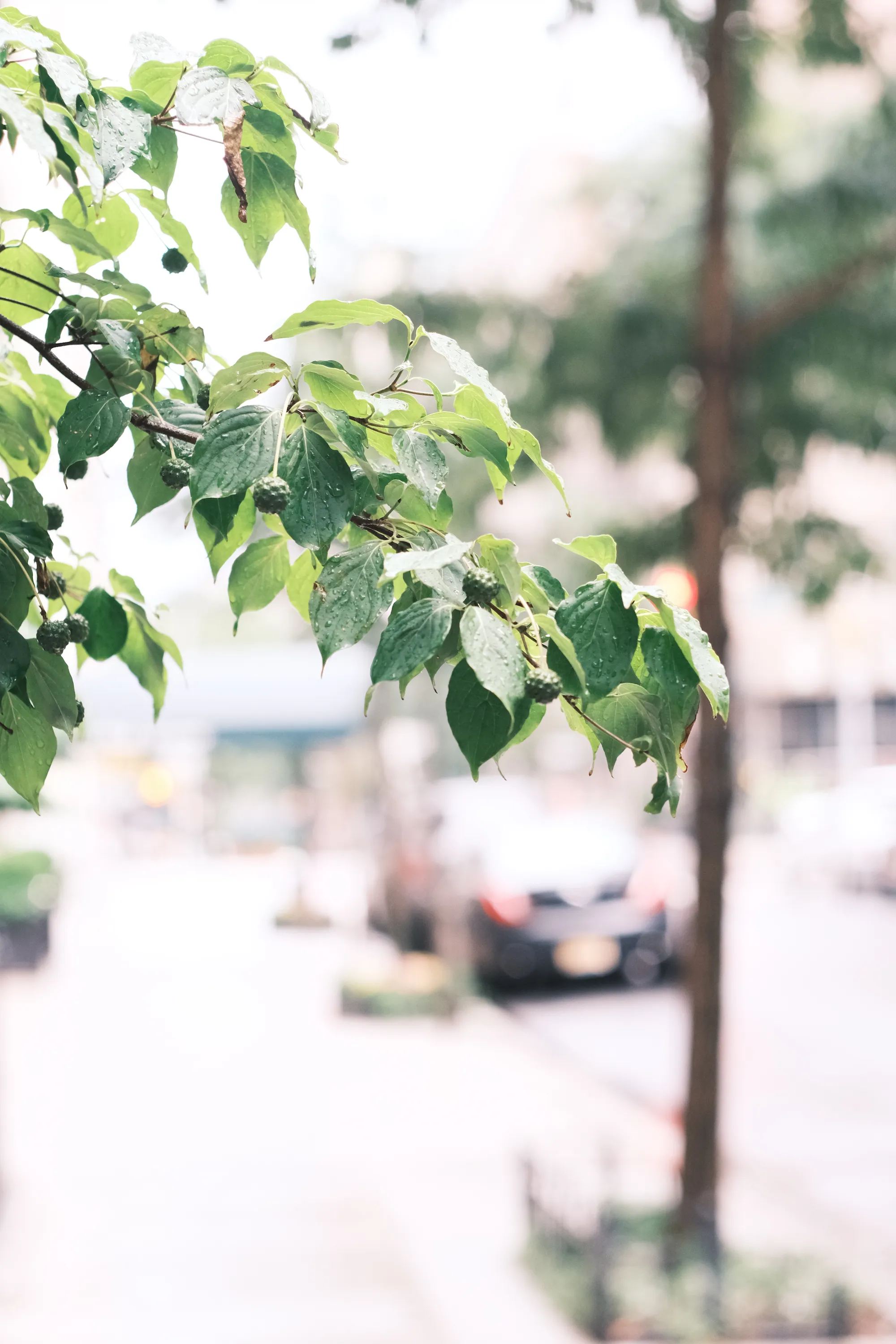 Leaves of a tree after a shower. Aug 2021. (FujiFilm X-S10 & Canon FD 50mm)
Marble Flesh and Bronze Souls
As an art student and a hellenic studies researcher, I am no stranger to sculptures. Yet, every time I look at classical sculptures, the beauty of human still blows me away.
How can something, cold as stone, pale as paper, vividly depict a dynamic scene of living flesh? The master arts of the past, who I can only know them by their name on the description card, showed me that there is no upper bound with art making.
One sculpture that immediately caught my attention was Andromeda and the Sea Monster by Domenico Guidi. Andromeda, the daughter of the king of Aethiopia, was known (and got into trouble) for her beauty. In a nut shell, her mother was boasting about her beauty, which got Poseidon jealous, and sent a sea monster to demand the sacrifice of the princess. [1]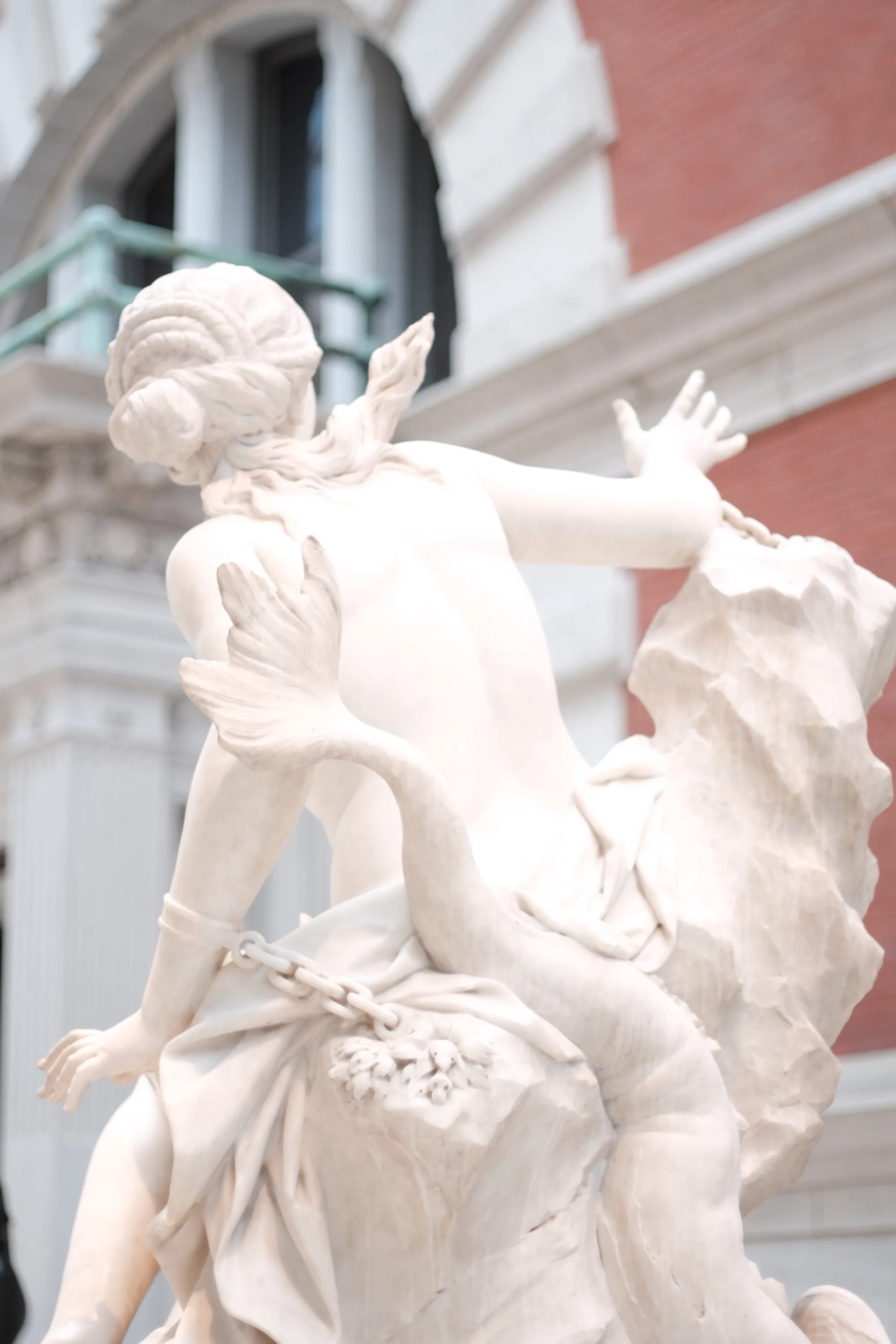 Andromeda and the Sea Monster by Domenico Guidi (Back), 1694. (FujiFilm X-S10 & Canon FD 50mm)
Therefore, it is no surprise that Guidi depicted such an irreproachable human body. Guidi created a dynamic pose for Andromeda such that a strong silhouette can be observed from different angles. The modest yet interpretable facial expression, along with the exaggerated mouth of the sea monster below her, illustrated a scene in the Greek myth that looks as if it can start moving at any time.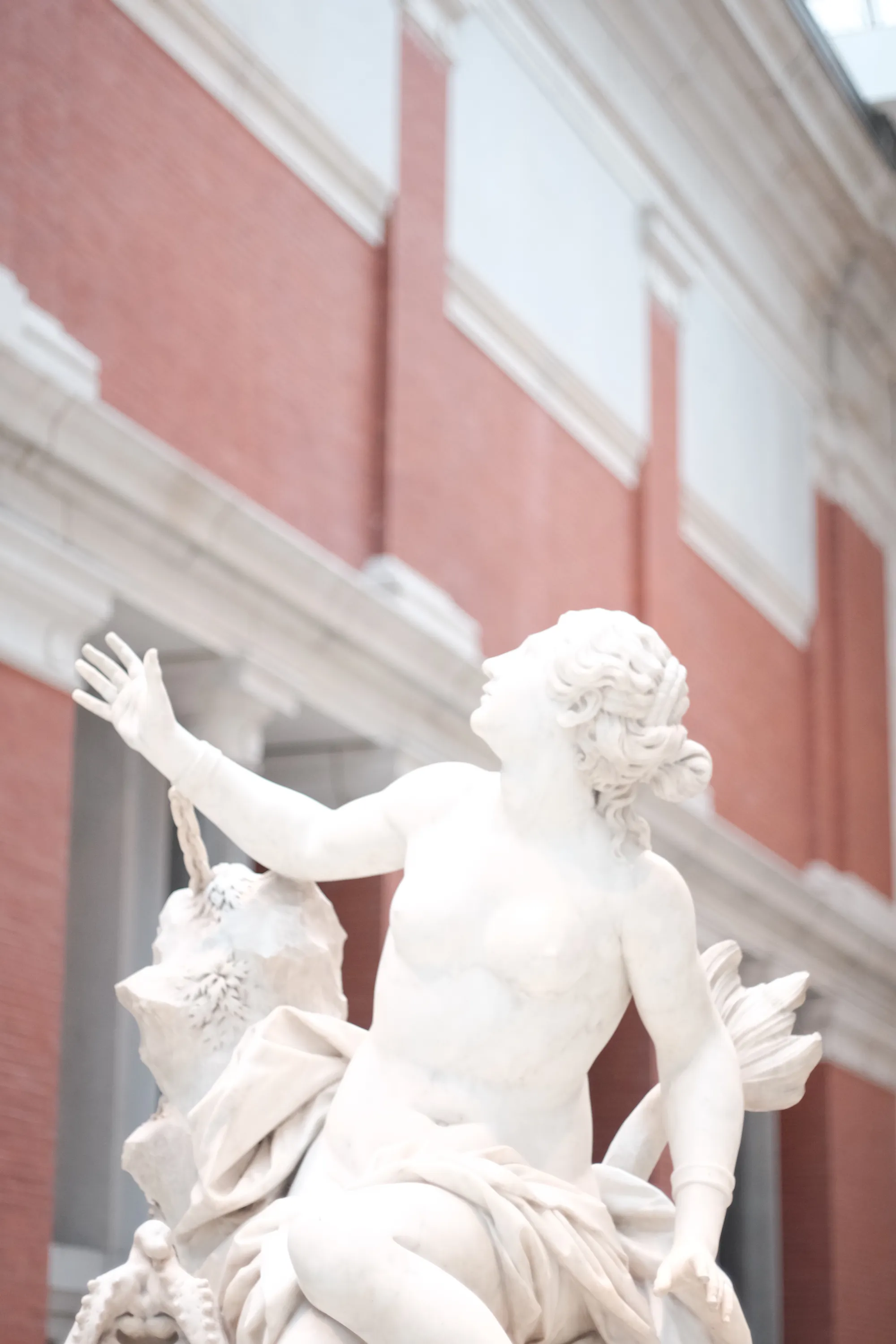 Andromeda and the Sea Monster by Domenico Guidi (Front), 1694. (FujiFilm X-S10 & Canon FD 50mm)
I still remember the first time I saw Michelangelo's The Pietà when I was visiting Italy. It was a stunning experience how Michelangelo integrates his knowledge in human anatomy into his sculptures, in other words, anatomical realism. While not a Michelangelo's work, this sculpture, Ugolino and His Sons by Jean-Baptiste Carpeaux, was clearly influenced by anatomical realism.
The story is also fairly straight forward, this sculpture depicts Ugolino, a traitor, was imprisoned and starved to death with his sons.
Ugolino's facial expression is hideously diabolic, yet it is not easy for me to read from his face what he is really thinking. A sign of anger, for sure, but Carpeaux also added a tint of frustration and regret. His sons, who did nothing wrong, are now starving to death with their father, and they all (Some not depicted in the photograph) have a panic look on their face.
Looking at the work, it is clear that Carpeaux was also strongly influenced by Michelangelo's anatomical realism, (as written on the Met's website), and passing on, his work will continue to inspire generations to come.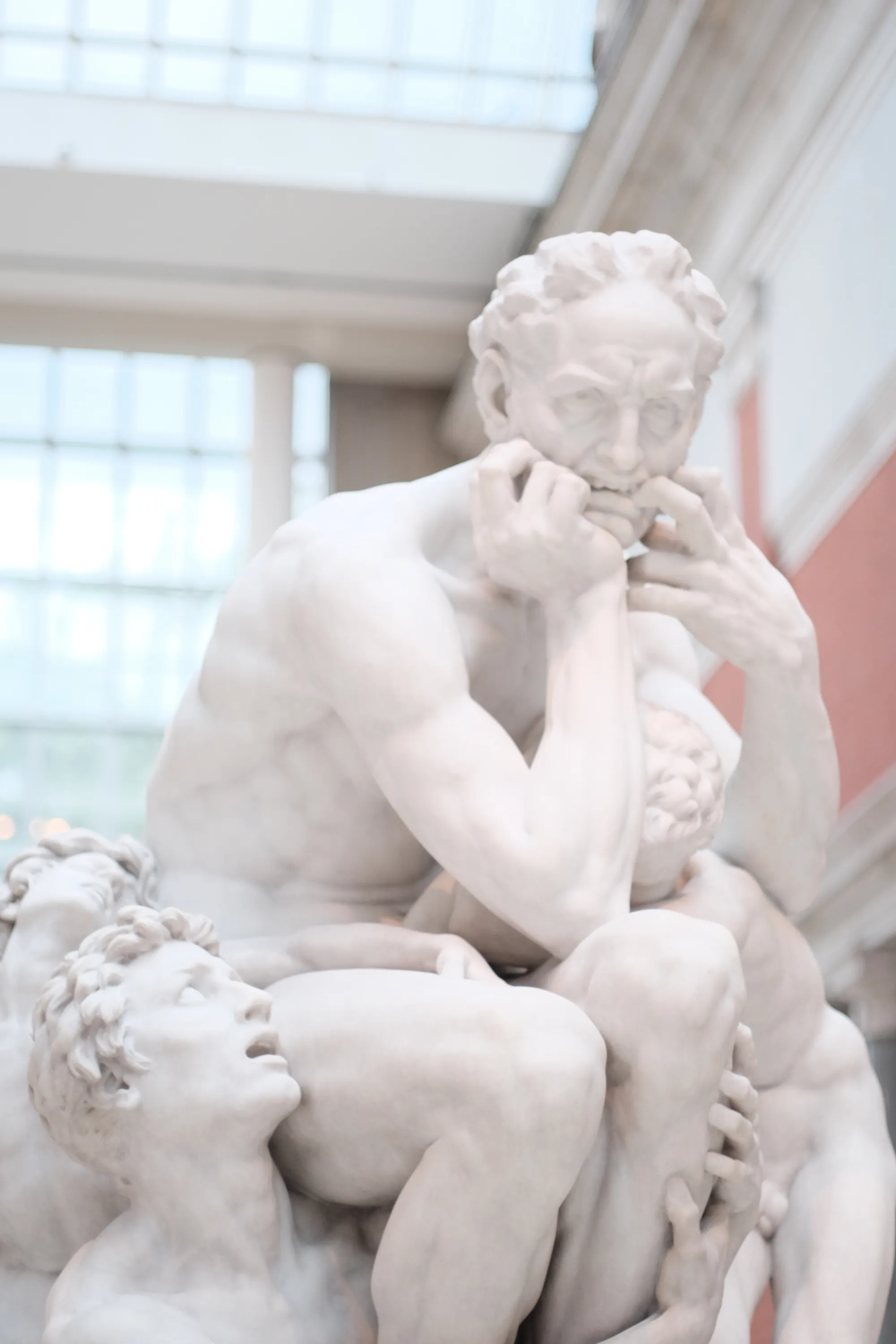 Ugolino and His Sons by Jean-Baptiste Carpeaux, 1865-67. (FujiFilm X-S10 & Canon FD 50mm)
Initially, I was not expecting to see the Burghers of Calais here, and that's why when I saw it, it was quite a surprise. I first learned about the Burghers of Calais by Auguste Rodin when I was a high-schooler studying for AP Art History in 2017, and I knew as a fact that the original was installed in Calais, France.
Turns out this is one of the casts that were casted using the original plaster cast a long time later, in 1985. Equally astonishing as the original, I had a rare opportunity to appreciate what once was in my textbook and I made drawing of it a couple years ago.
The burghers of Calais were six leaders of a surrendered city, namely, Calais, that wished to sacrifice themselves to save everyone else's life. My understanding of what makes this work by Rodin so famous is, it not only has a great (and real!) story behind it, but also Rodin executed all six men's gesture in such a way that they are neither supercilious nor obsequious.
These men had noble goals, and thus this sculpture glows from the spirits of these humble men.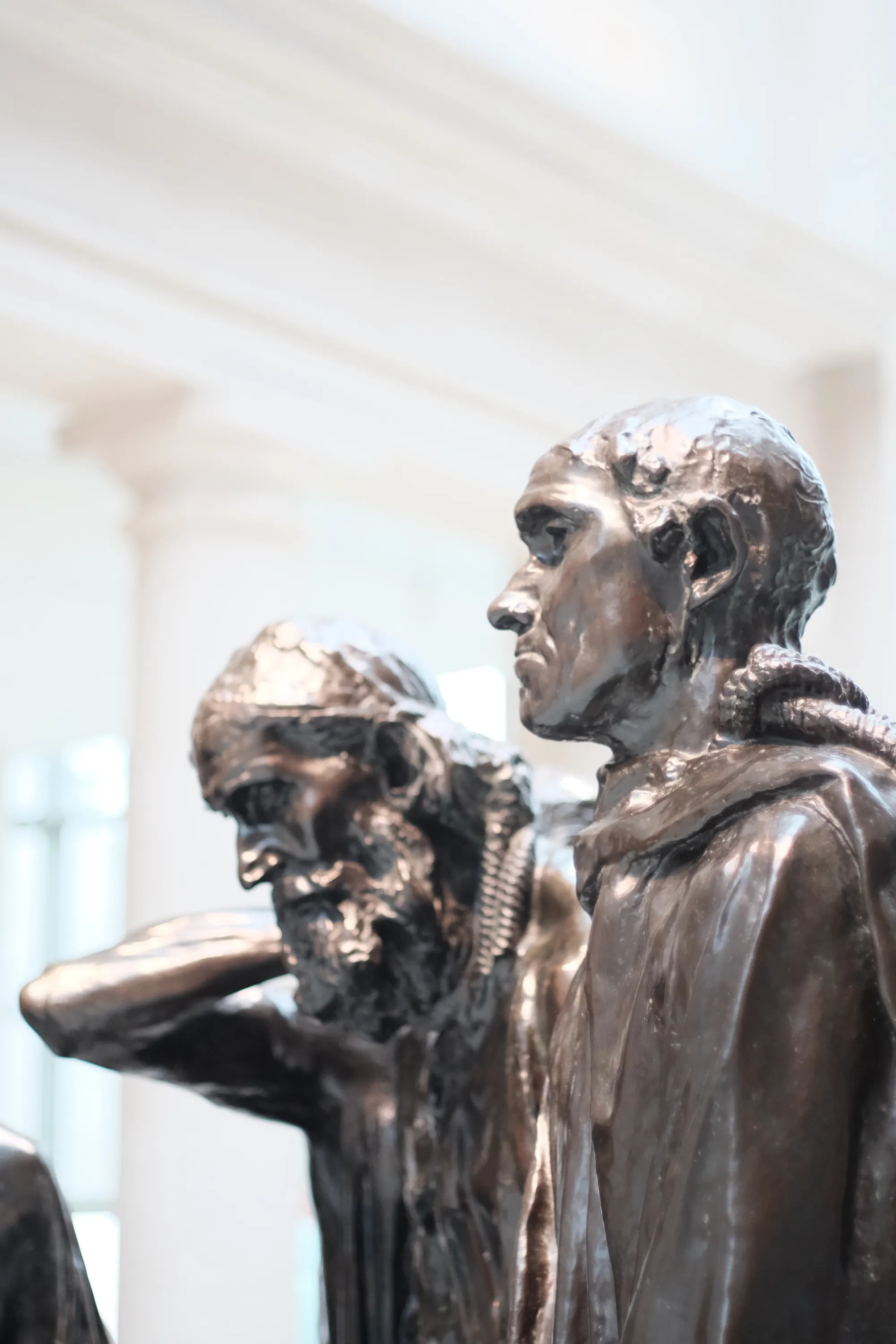 The Burghers of Calais by Auguste Rodin, 1985. (FujiFilm X-S10 & Canon FD 50mm)
While the majority of marble sculptures during the times were produced in Europe, Hiawatha by Augustus Saint-Gaudens gives us a view as how people of the Americas might use the same medium to make different works.
Here, Saint-Gaudens depicted the fictional Ojibwe chief in a thinking pose. While the author described him as "pondering, musing in the forest /On the welfare of his people", Hiawatha reminds me of Auguste Rodin's The Thinker. Not all statues that depicts nude man thinking is alike, yet I think these two works has some interesting similarities and differences.
Rodin, unmistakeably, is a master in depicting subtle emotions. This is the same case with The Thinker, and is the case with The Burghers of Calais above. Rodin's thinker is in a deep mood, thinking about serious matters, potentially matters that causes the thinker to suffer. Saint-Gaudens, on the other hand, depicts a chief that resides in harmony while thinking. Probably thinking about joyful matters, Saint-Gaudens rendered a slight smile of happiness on the chief's face.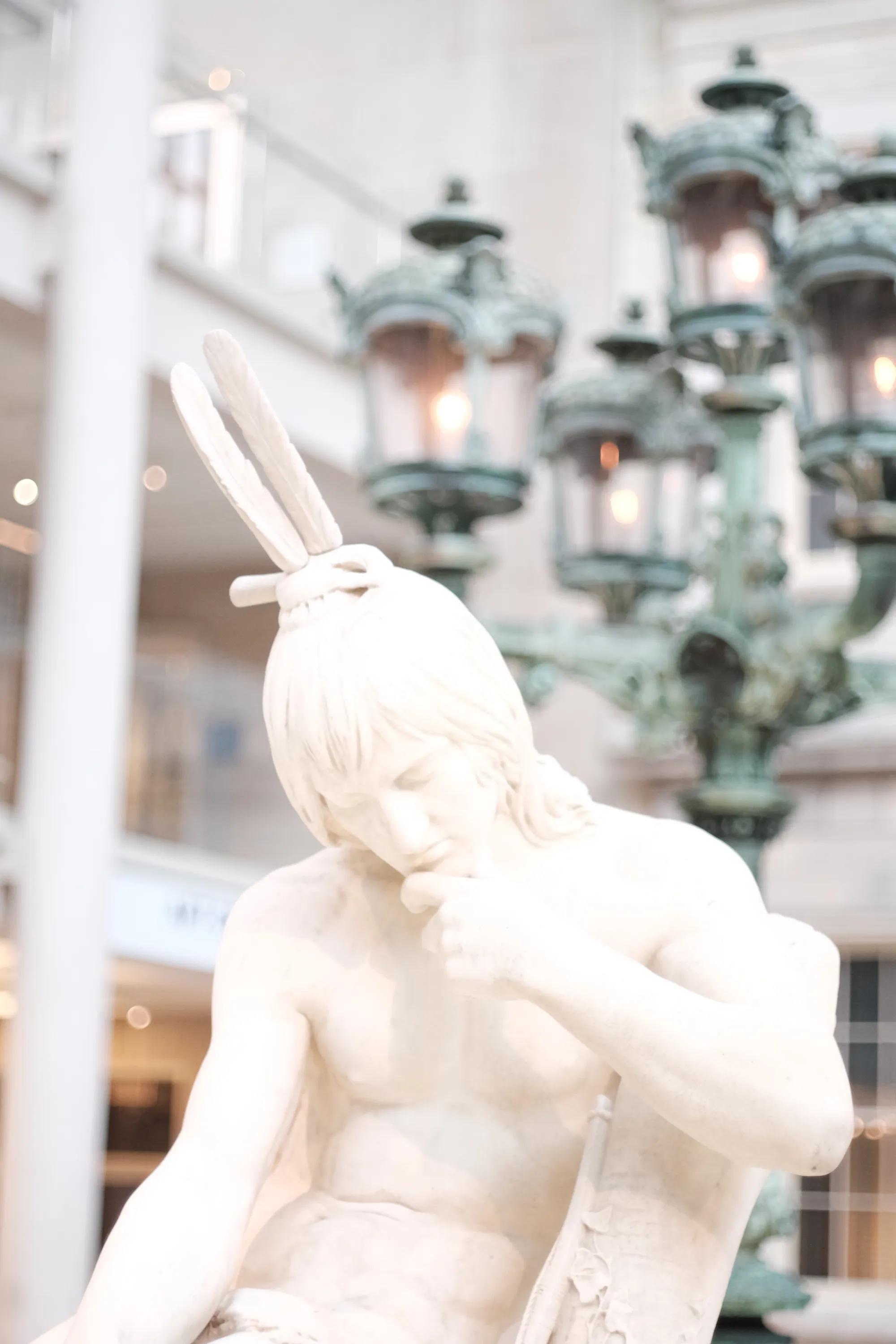 Hiawatha by Augustus Saint-Gaudens, 1874. (FujiFilm X-S10 & Canon FD 50mm)
References
Who's Who in Classical Mythology, Michael Grant & John Hazel, Oxford University Press, 1973, 1993, p. 31, ISBN 0-19-521030-1.
If you want to quickly say hi just shoot me a message using the contact portal.