Basically, good food and restaurants worth writing down. Very independent and not sponsored reviews by… well, myself!
---
II Corallo Trattoria
Address: 176 Prince St, New York, NY 10012
Website: https://www.ilcorallotrattoria.com/
Phone: (212) 941-7119
A very fun little Italian restaurant that serves good food with reasonable price. I went there a couple times with different friends and all of them say it is very good. I like it a lot too, and the area around it is cool as well. You can eat indoors or outdoors.
They actually gave me a free big wine bottle so I could put flowers into them at home, super great people.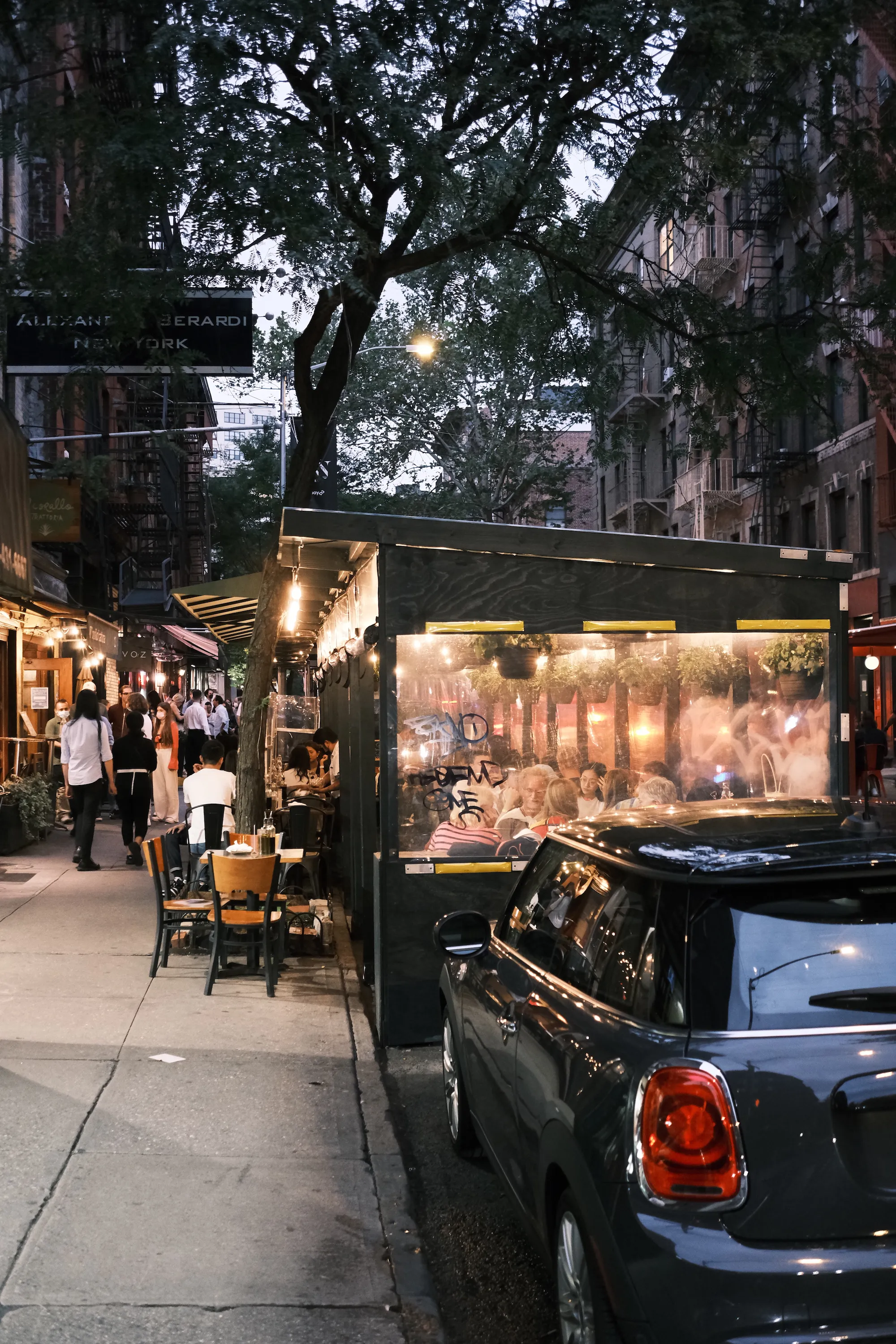 Outdoor Seating of II Corallo Trattoria.
Bread (Free!)
They provide free bread before meal, and it is very good. And that is also why I specifically mention it here because I like their bread a lot. Not too hard and not too soft, with a lovely smell.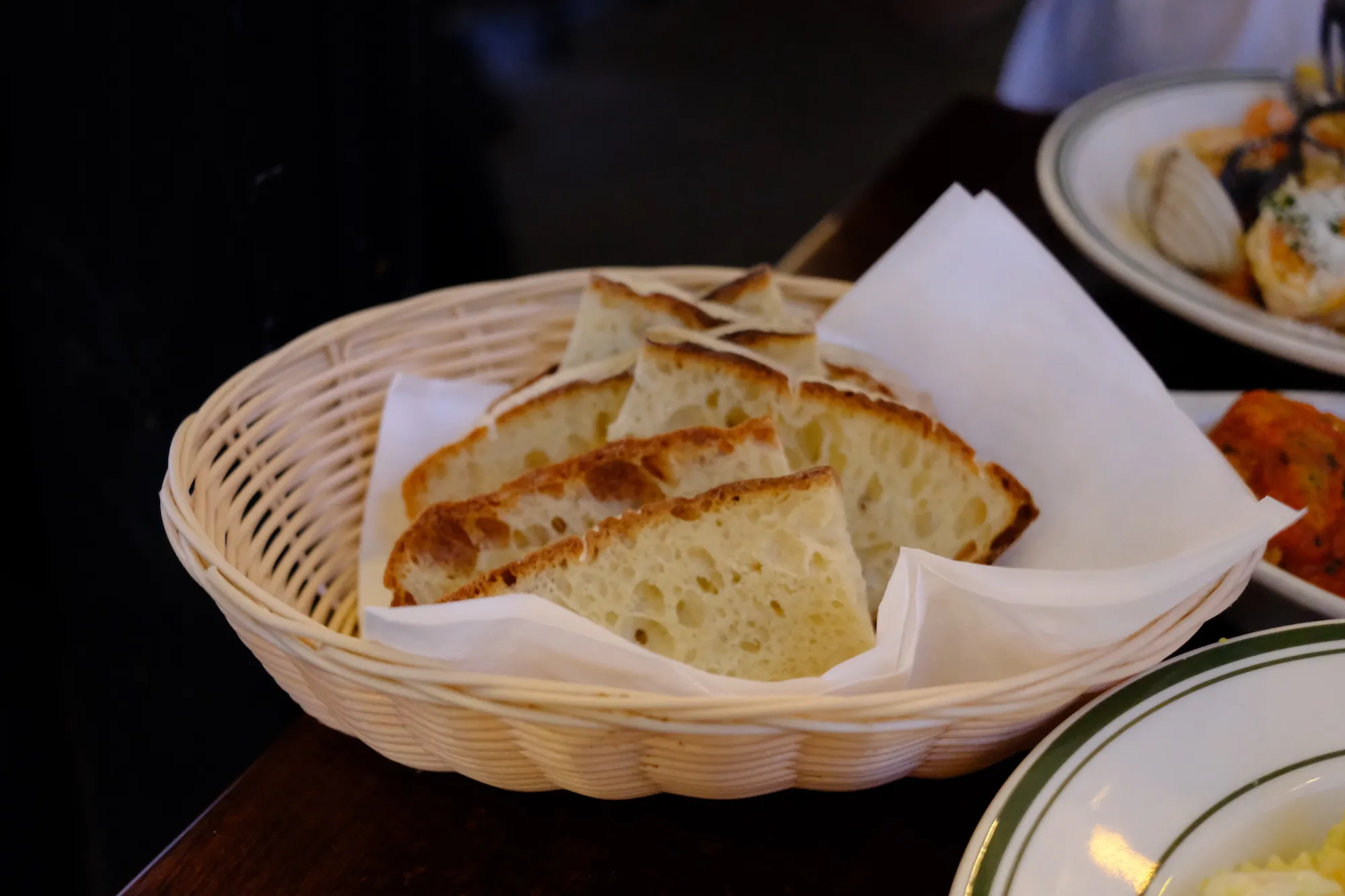 Sliced Bread.
Taglierini Sorrento ($21.95)
What they really mean:
Fresh thin black squid ink noodles with shrimp, crab meat, scallops, clams, fresh chopped tomato, parsley, olive oil, white wine and garlic sauce.
It is my personal favorite! It tastes very good, and I could not taste strong flavors of garlic (which is good for me), the noodles were great, I just wish it to be a bit larger size.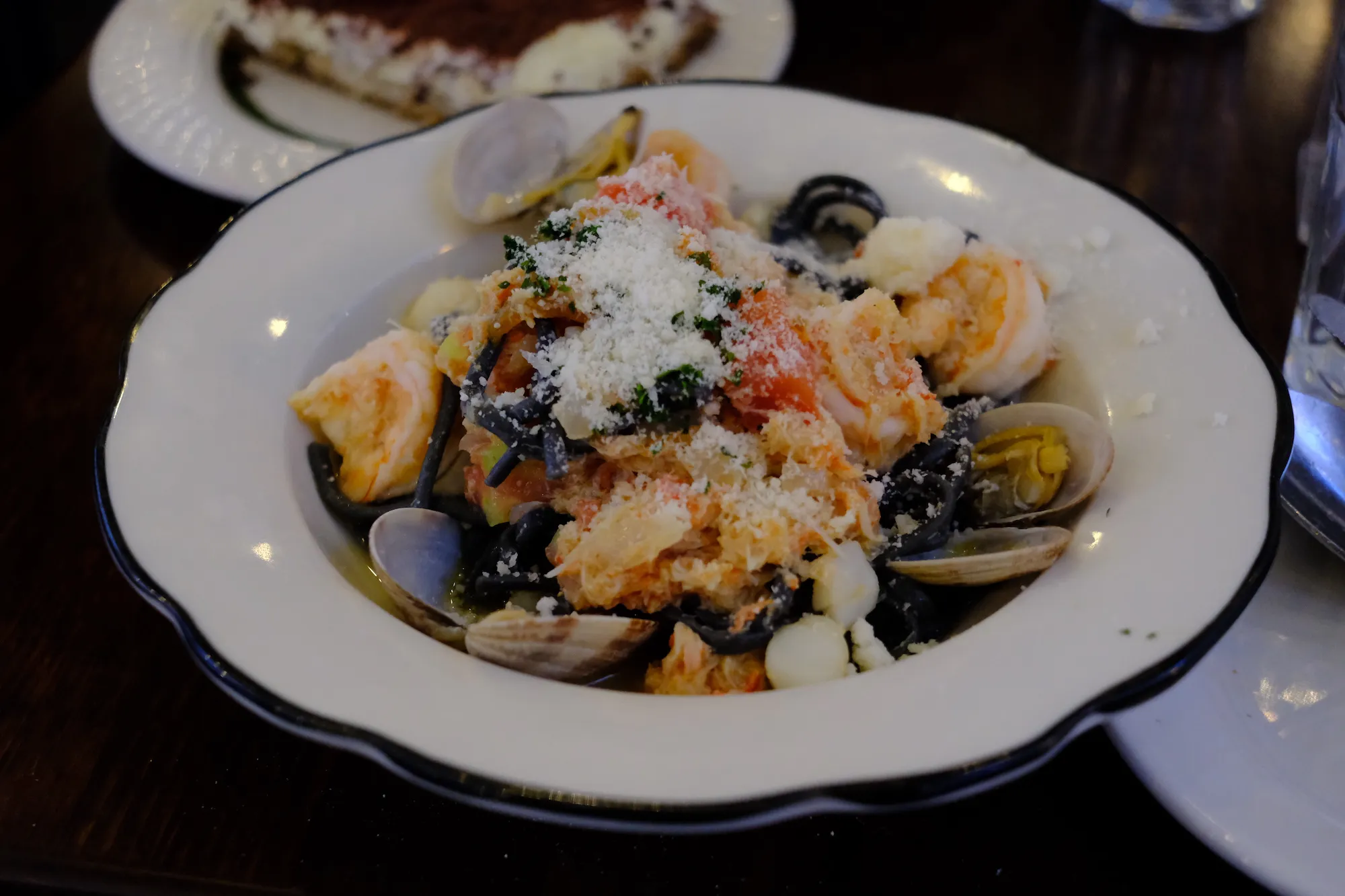 Taglierini Sorrento.
I am a garlic hater so I was a bit afraid to order it with garlic sauce. For the first visit I ordered it with cream sauce instead (see below), and it was really good too. I also strongly recommend this variant! Just note that they do charge extra (just a bit more) for changing sauces.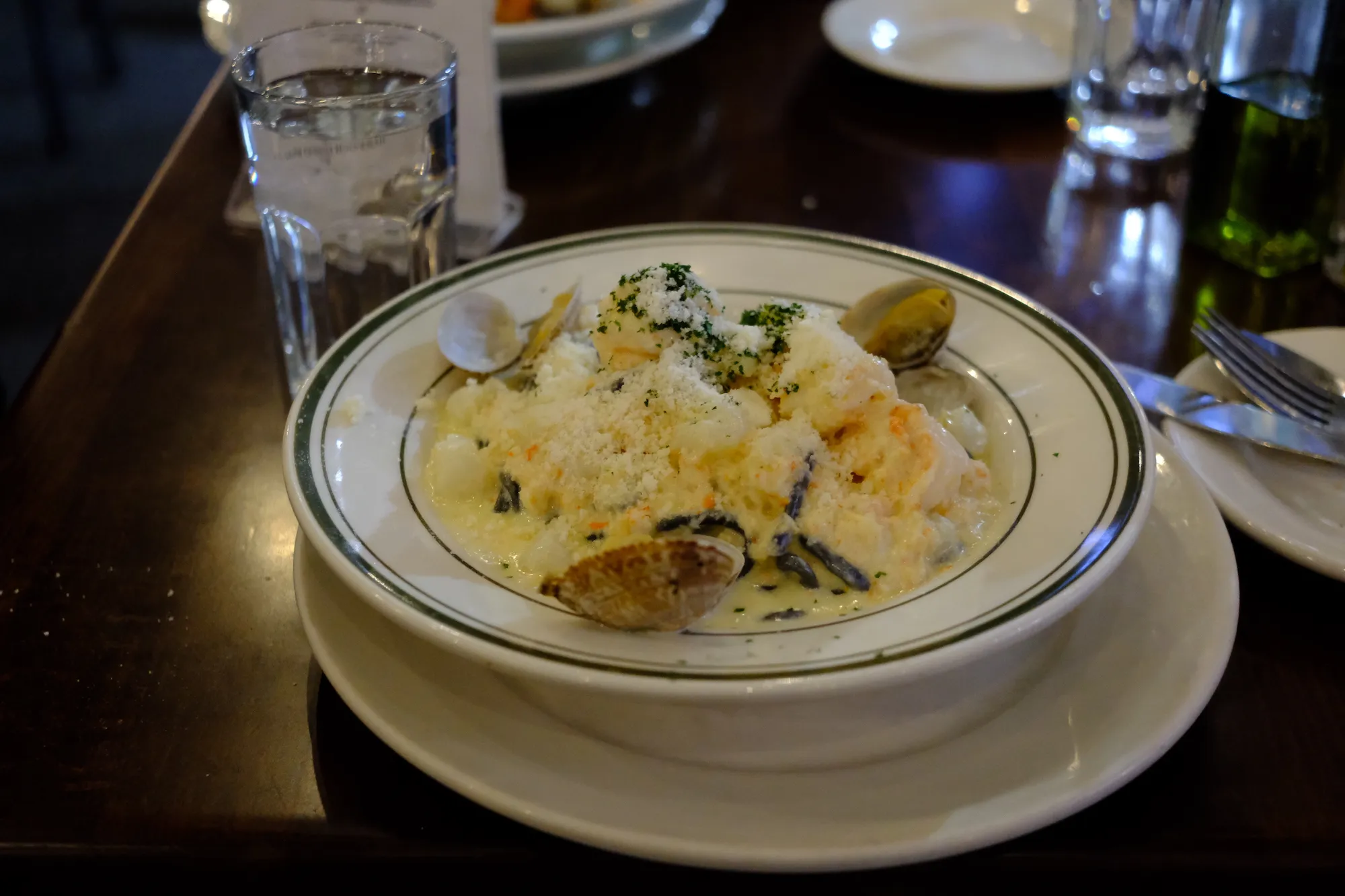 Taglierini Sorrento with Cream.
Fettuccine Pescatore ($21.95)
What they really mean:
Fresh noodles with scallops, shrimp, lobster meat, mussels, clams and fresh chopped tomato in a white wine, garlic and olive oil sauce.
It is similar to Taglierini Sorrento above, aside from noodles I don't think much changed. Still very good though!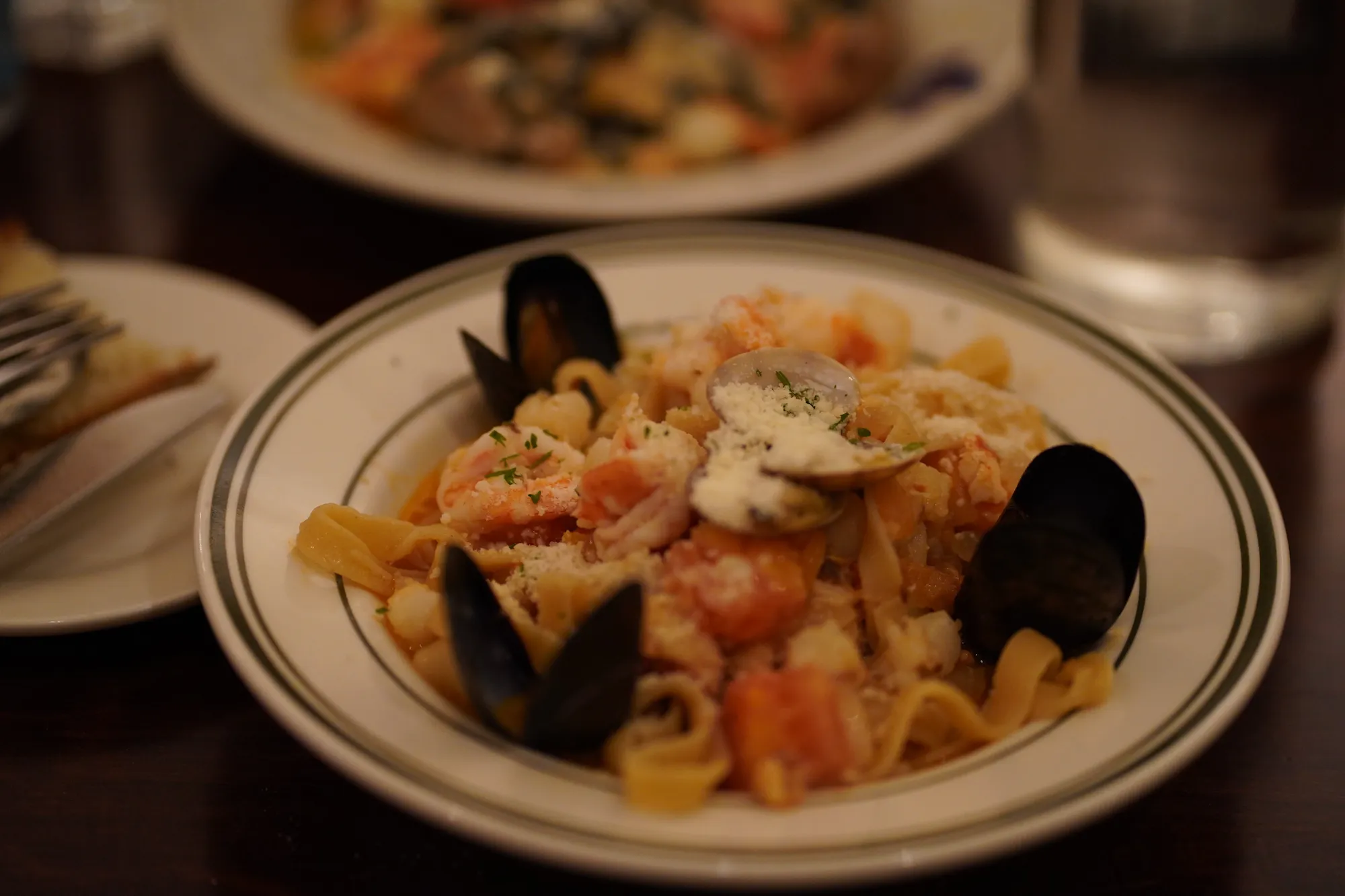 Fettuccine Pescatore.
Farfalle di Spiaggia ($21.95)
What they really mean:
Bow tie pasta with lobster, shrimp, fresh green peas and avocado in a parmigiano cream sauce.
It was good, but nothing super special. Although a bit weird, considering they put avocado in pasta. (My Italian friends: is this ok to put avocado in pasta in Italy or will you get arrested?)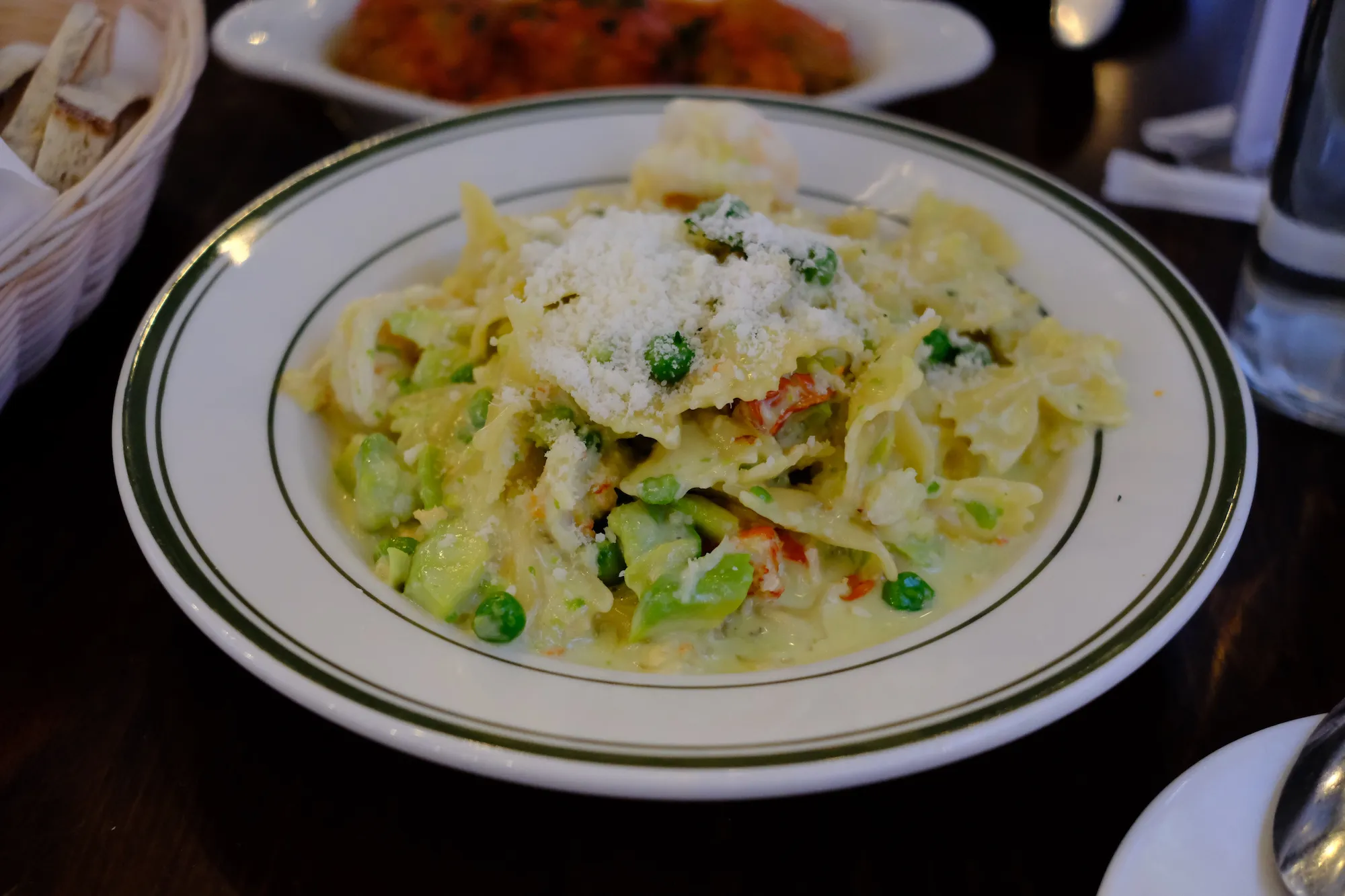 Farfalle di Spiaggia.
Capellini Corallo ($21.95)
What they really mean:
Angel hair pasta with muscles, scallops, shrimp and crab meat in a rich tomato sauce (Note: They put diced onions into the sauce).
Perhaps angel hair pasta is very similar to Chinese noodles, I don't find this dish too "Italian" to me. The tomato sauce is the same as many other pastas above, so it tastes similar to many things above. It all comes down to the choice of pasta and sauce.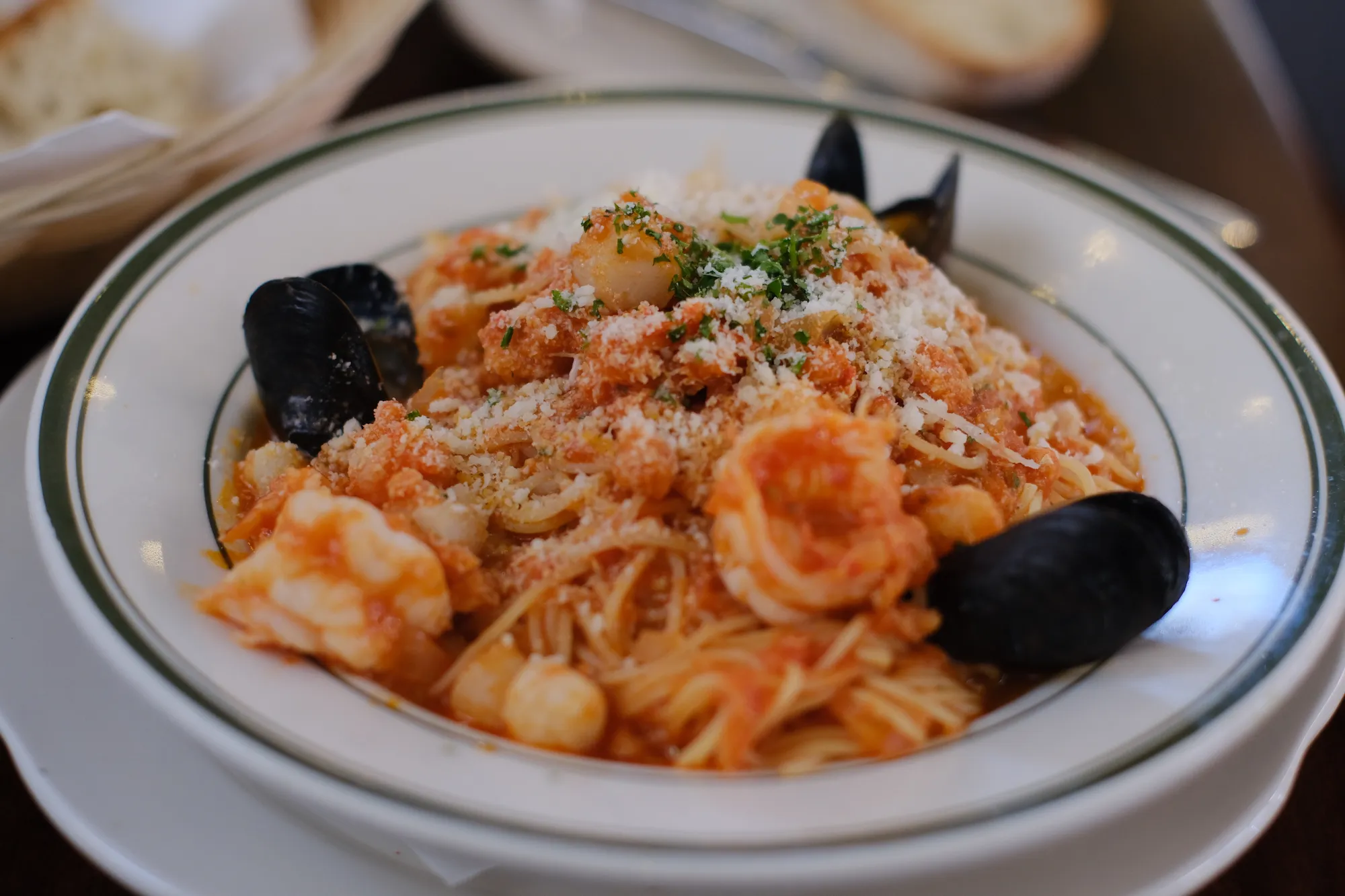 Capellini Corallo.
Meat Balls
We ordered some meat ball on the side, they are well cook, but they are not as tender as I thought, they are on the softer side. I personally never had any real Italian meatball (despite I was in Rome for a short period of time… shame on me), so I won't judge.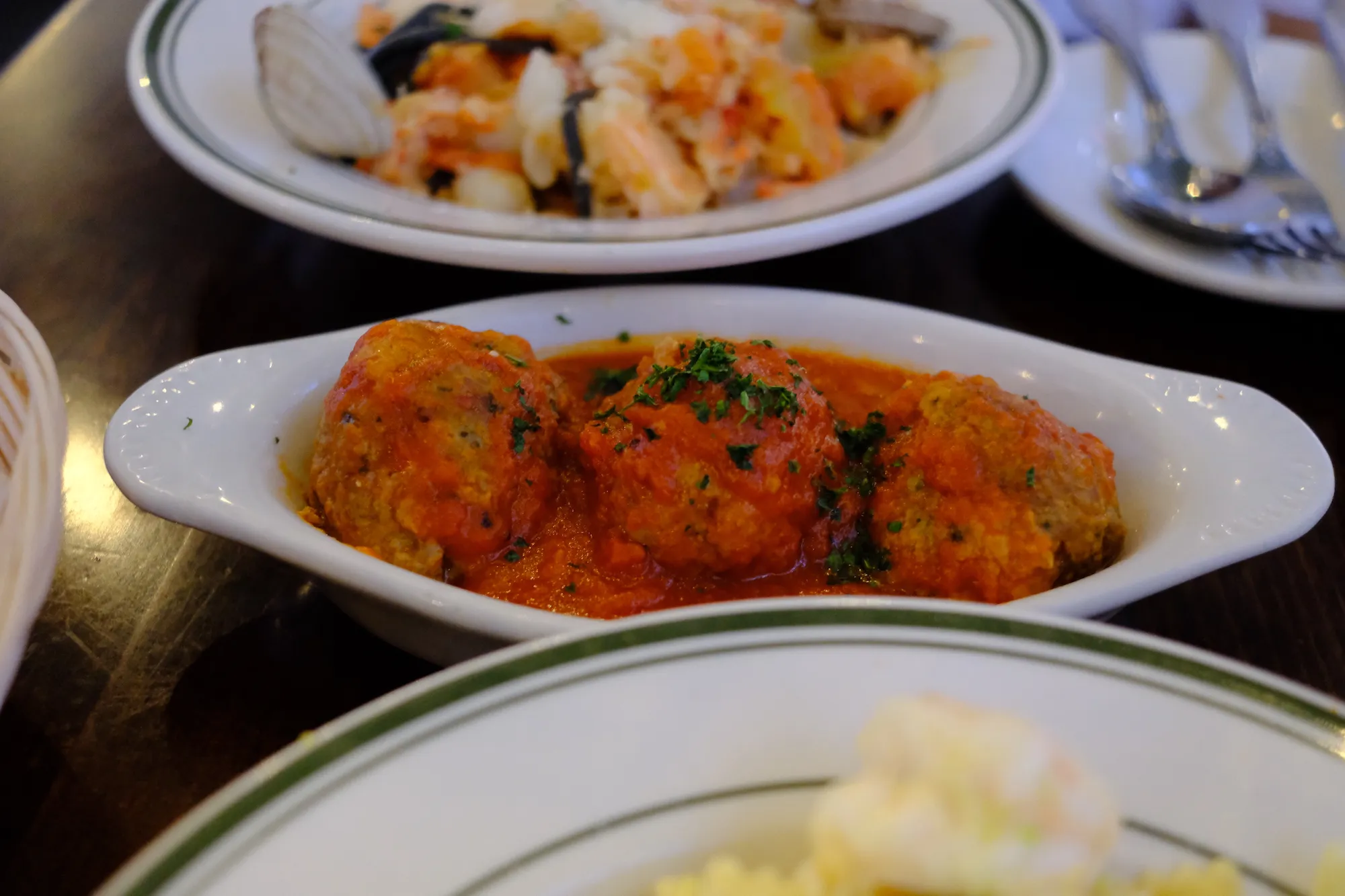 Meat Balls.
Tiramisu ($8)
What they really mean:
Ladyfingers dipped in espresso with lightly sweetened mascarpone cream and chocolate shavings. (Although I know in general what Tiramisu looks like but I really never seen a precise definition for it)
It is much bigger than we thought, and certain one serving is enough for two of us after finishing a plate of pasta. It is really good though, not too sweet, and just enough flavor to get excited. The way they cut their strawberries is also quite interesting.
Tiramisu.
Map
Note: The Google Map integration on my website is still in development, so glitches might happen.
---
License
These pictures are distributed by Hongjun Wu under the CC BY-NC 3.0 license.
Share — You are free to copy and redistribute the material in any medium or format.
Adapt — You are free to remix, transform, and build upon the material.
Attribution — You must give appropriate credit, provide a link to the license, and indicate if changes were made. You may do so in any reasonable manner, but not in any way that suggests the licensor endorses you or your use.
Non-Commercial — You may not use the material for commercial purposes.
---